Our Story

Learn About Our Paint & Sip Studios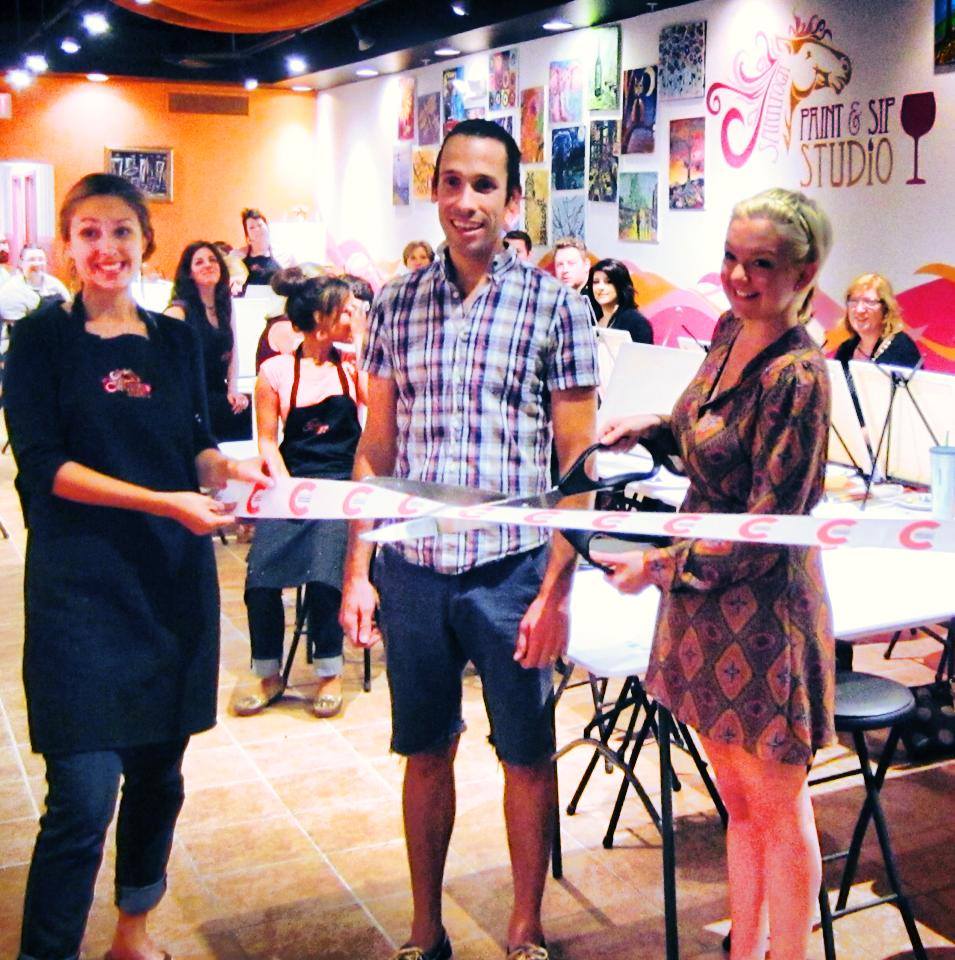 Mark & Catherine
Mark and Catherine are the entrepreneurs behind Saratoga and Burlington Paint & Sip Studio. They are originally from Southeast Louisana and now call Upstate New York their home! Shortly after moving to the area for Mark's career, they quickly fell in love with all that the region has to offer. In April of 2012, they opened the coolest little paint studio and bar in downtown Saratoga Springs. The first of its kind in the Capital Region, the studio quickly became a staple in the Saratoga Springs community. A year and a half later, they opened a second studio in Latham, NY in the very popular Newton Plaza shopping center. In January of 2015, the Hover's ventured across state lines and opened the first paint and drink studio to Vermont with Burlington Paint and Sip Studio on Church Street in Burlington's Downtown Marketplace. Mark and Catherine have a 3 year old daughter and will be welcoming their 2nd child in January! Catherine is actively seeking ways to encourage and inspire non-experienced artists like herself to create and explore all of their artistic talents!
Our Artists

Mandy
Michele is an artist recently relocated from NYC to a haunted convent apartment in Troy. She studied Fashion Design at Marist. Her interests include painting, cats, Wes Anderson, sketching, cats, fashion, cats, wine, cats, sarcasm, and all things vintage and fabulous. When not brokering insurance or teaching, you can find her walking her cat Peeve in her neighborhood sipping wine from her flask scarf.

Ali
Art is for everyone. Whenever I was asked what I wanted to be when I grew up, the answer was always the same. Creative types on both sides of my family had inspired me- I knew I wanted to be an art teacher. My uncle studied the alla prima technique alongside Bob Ross in the early eighties when they were both under instructor Bill Alexander. Just like every other kid babysat by PBS, I would grow up watching these two famed and acclaimed painters, and took to heart the moral of their lessons- anyone can do this, and anyone should. I'm ready to help you with whatever you're working on- a magnum opus, happy accidents, and everything in between. Come paint with me!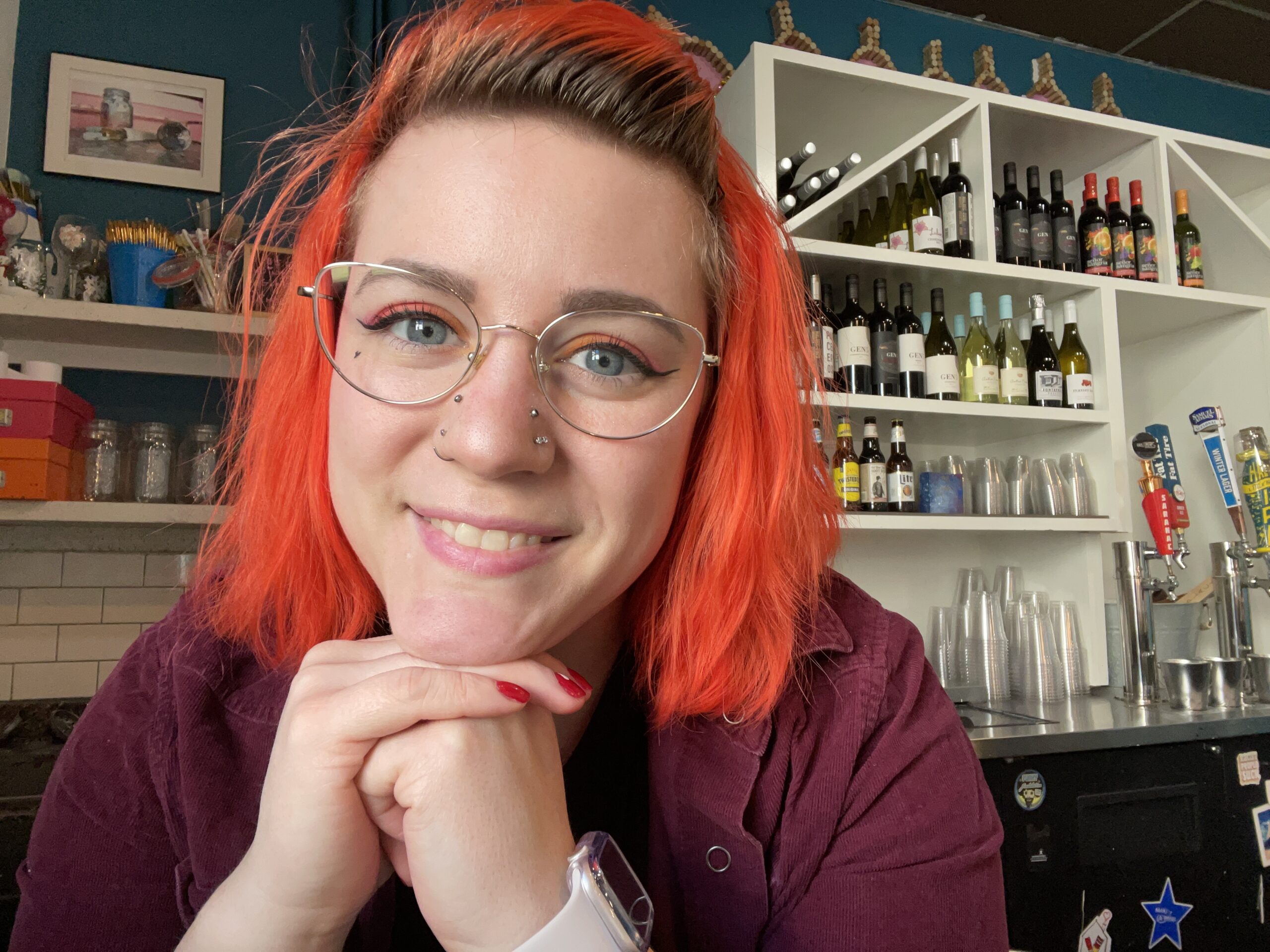 Marissa
Marissa has been with the studio since the fall of 2019! She has always been a lover of the arts, and continued that through her education earning a BA in Studio Art and Minor in Education. She also earned a certificate a few years later in Graphic Design, all while working at her full time job and at the studio part time! She is a huge animal lover who grew up on a dairy farm and now currently has a dog named Jasper and two rabbits, Apollo and Hazel. She enjoys teaching classes of all sizes and also teaches Crash Courses on Tuesdays! Come on in for a class or request her for a Private Party and get to know the vibrant Marissa!
Christy
Growing up on the Mississippi Gulf Coast gave Christy a deep appreciation for city life and the ways of the country. From a very young age, Christy has always loved creating, on any given day, she was baking sugar cookies or painting trees on her bedroom walls. Moving to New Orleans in her early twenties, she started her culinary career. Self-taught, she worked her way through the ranks to become the Executive Pastry Chef of Emeril's Delmonico in  2018. Christy has worked with renowned chefs such as Emeril Lagasse, Jacques Torres and Duff Goldman. During the summer of 2020, she and her husband moved to New York to be closer to family, along with her two dogs and a fat orange tabby cat. She has 15 years of culinary experience with a background in fine dining and southern desserts. She is currently a private chef and artist at Saratoga Paint and Sip. She also hosts monthly cooking classes in Saratoga Springs, New York.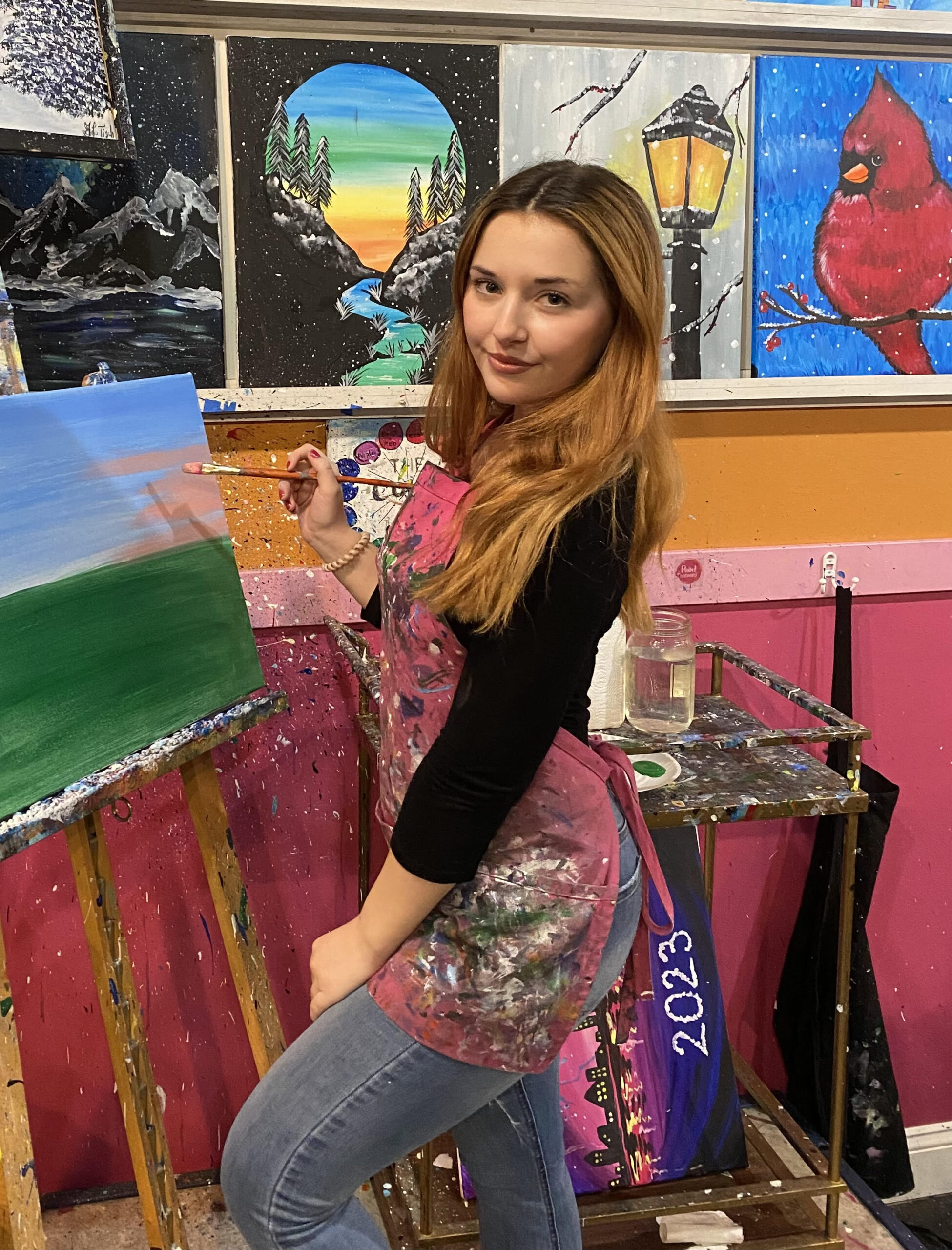 Katelyn
My name is Katelyn and I found my home here at paint and sip summer of 2022 when I began teaching the summer kid's camp. I have always loved art, but hadn't tried my hand at painting until then. Working at paint and sip is truly the most fun I've ever had at a job and I'm grateful to it for helping me find my passion!
Kate
Kate is a part time painter, full time sipper and touring comedian. When she's not on the road pocketing snacks from motel continental breakfast spreads, you can find her at the Saratoga studio, ready to pop bottles and have all of the fun. She met her soulmate in a dive bar. He was double fisting whiskey. It was a Monday. She's terrible at writing bios about herself and she loves chicken wings.
Claire
Claire was born and raised in SC and moved to Vermont 11 years ago.  Joining the Paint and Sip family in August 2015 brought her back to her artistic roots.  Claire received her BA in Studio Art with an emphasis in painting back in 1997 from Columbia College of SC, and since has been working in higher education and non-profit development in her full-time life.  She loves the time she spends at the studio helping people develop their painting skills.  When not at work you will often find Claire having a cocktail with friends, hanging with her wife and dogs, and giving much unsolicited advice to anyone who will listen.
Sarah
Sarah has been an artist at the Latham studio since July 2015.  She is well-versed in the art of painting and sipping.  Sarah went to school for Psychology, with a minor in Art Therapy.  She enjoys themed parties, sour beer, casual exercise, dogs, and french fries.  She can't get enough of the TV show, "Bob's Burgers".  Sarah is afraid of snakes, the effects of global warming, and not using ~enough~ colors in her paintings.  Sarah's a beer gal, but you'll see her enjoying the occasional mimosa at Saratoga Paint and Sip.
Kathryn H.
Hey Y'all! Kathryn's as sweet as southern tea (probably because she grew up in Myrtle Beach, SC).  She's the real deal, like the sun tea kind that sits out on your back porch, speaking of porch she loves the outdoors. Kathryn comes from corporate retail and has learned much about business. Saratoga P&S was a celebratory tradition in her personal life until it became a staple on her path to purpose. She enjoys sarcasm, her "bold" Blue Heeler named Spice, playing Cat-Peach on Nintendo Switch, and authentic people. Oh yeah and she's writing her first book while drinking Stella Artois Cidre. Favorite quote: "Nothing ventured, nothing gained."
No Experience Necessary. All you need to Bring is Yourself!